Saida Sheikh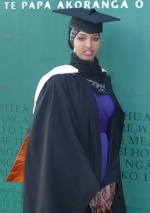 Name: Saida Sheikh
Year of arrival in New Zealand: 2005
High School: Wellington East Girls College
Programme of study/qualification gained: Bachelor of Accounting and Commercial Law
Name of tertiary education institution: Victoria University of Wellington
Place of employment: New Hope Foundation Inc
Education and career choices, achievements and highlights:I always wanted a career in the business field but I didn't know the area I wanted to pursue. In my first year I took 7 compulsory papers, one of them was introduction to accounting. Once I completed that paper I knew I wanted to pursue accounting as a career. My accounting lecturer referred to accounting as "the language of business." I was fascinated by this phrase and I wanted to learn more about this subject. Often we assume that accounting is all about crunching numbers, but as a business major in an accounting program I have discovered it is more than that. I learnt how to approach, analyze, and shape financial practices within an organisation. I have gained an understanding of how finances work and how they affect the bottom line. In addition there are many types of risk inherent in any business in today's volatile world. Therefore it is important to know the law that governs the business activities in order to mitigate risks. Keeping this in mind, I have decided to add Commercial law as my second major. Alhamdulillah I enjoyed my studies and I am looking forward to commencing my charter accountancy program.
Advice to my fellow Somali students:
Studying at tertiary level is not an easy mission; however, it is not an impossible task either. When you set your goals straight and you identify what you want to achieve in life then you will be able to accomplish your dreams with the help of Allah no matter how difficult it is. If you are not sure of what you would like to study, talk to your friends, teachers and senior students who are studying different degrees. Also be aware throughout your study and in life that you will come across obstacles and challenges. But don't give up; follow your dreams and your passions.
Community involvements and interests:
I have always been involved with the community. I have worked with the Wellington Somali Council as a homework club coordinator during my University time. I have helped students with their study. I have also developed community links that strengthen young people's relationships with their family units, school, services and other support networks.